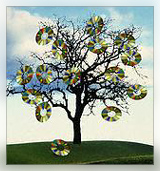 Core Business

As a Software House, our core business is twofold: on-demand software developing and auto-produced software developing (for direct marketing). In the last two years the volume of business activity derived from these two sections has been equal.
On-demand Software
We are specialized in on-demand software developing for MS Windows systems. Our software applications, commissioned by most significant distribution societies (like Edizioni Master SpA), have crossed national borders and reached european and global markets. Features common to all of our software are: plain and fully developed interfaces, compatibility with all Windows releases since Windows 98 PE, respect of all Microsoft standard. No Ocx Plug-in Libraries or any other external component is needed and all the code is usually included in a single executable.
Auto-produced Software
A ten-years-long experience in software developing (our first software was published on PC Pratico in the faraway 1996) allows us to develop innovative and professional applications. Tens of thousands of clients throughout Italy make a daily use of our softwares wether in demo or in full release. Since 1996 our software products have been downloaded 800.000 times and univocal visits to our websites are more than 1.700.000.